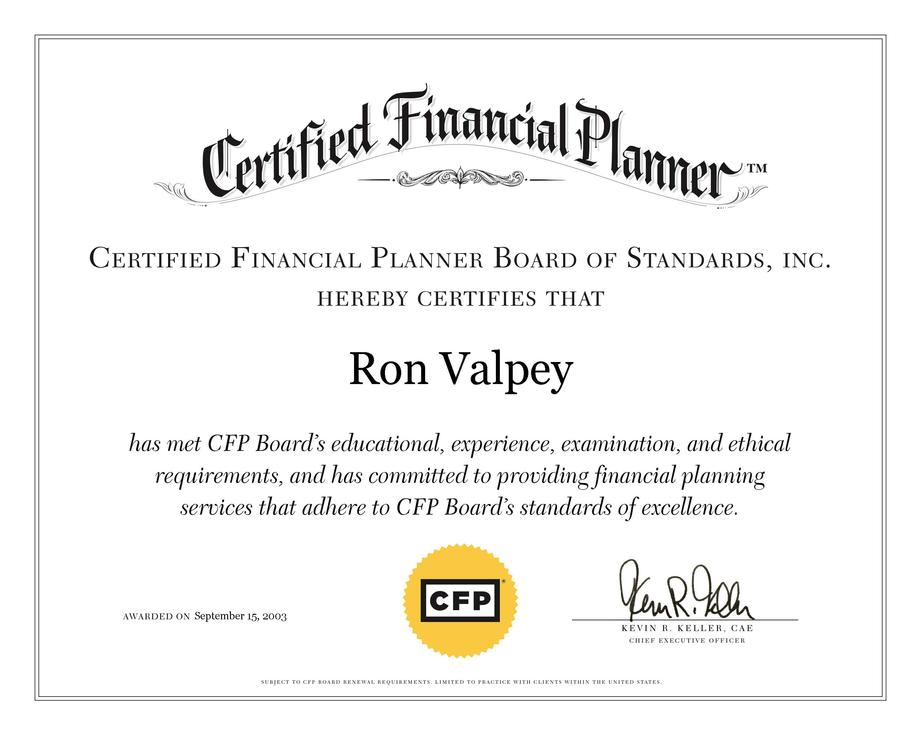 Ron Valpey is a Certified Financial Planner™ professional, Accredited Investment Fiduciary™ and Investment Advisor Representative of Valpey Financial Services, LLC (a Registered Investment Advisor).
Ron is a fiduciary* practicing fee-only financial planning and investment management. He provides clients with in-depth retirement and investment planning coordinated as needed with college, tax and estate planning.
Ron was raised in New England and has over thirty-nine years of personal and professional investment experience. He is a member of a number of associations including:
The National Association of Personal Financial Advisors (NAPFA) is the country's leading professional association of Fee-Only financial advisors


The Financial Planning Association (FPA) where Ron was a Past Chairman and Past President of the Northern New England chapter


The Center for Fiduciary Studies where Ron is an Accredited Investment Fiduciary


The Concord Chamber of Commerce
The Better Business Bureau
He is also Chairman of the Captain Raymond Thombs Memorial Fund and Lecturer with the New Hampshire JumpStart Coalition, a non-profit organization helping to educate high school students on financial matters. Ron was a frequent guest on the Bill York radio and TV shows.
* A fiduciary is a person in whom another has placed trust and confidence to manage and protect property or money. The fiduciary has a legal obligation to act in the person's best interest, putting the person's own interest before the fiduciary's interests. A fiduciary is required to fully disclose all potential conflicts of interest.
Licenses (Past and Present):
NASD Series 24 – General Securities Principal
NASD Series 7 – General Securities Representative
NASD Series 66 – Uniform Combined (Series 63 & 65) State Law
NH Producer: Life & Variable**
* *We may advise on insurance but only in a planning capacity. We will not sell you any insurance products, receive any commissions or share in any commissions related to any insurance products.
Education
CFP® UCLA, Los Angeles and College for Financial Planning, Denver
BS Northeastern University – Boston, MA
MA Emerson College – Boston, MA
Victoria (Vicky) Webber is the Chief Compliance Officer and Client Services Manager at Valpey Financial Services, LLC. She is Series 65 licensed and has worked with Ron since 2003.
Kristen (Kris) Zaffini is the Financial Paraplanner Qualified ProfessionalTM , FPQP® and has worked with Ron since 2019.
Jodi Valpey is the Client Services Assistant and has worked with Ron since 2010.